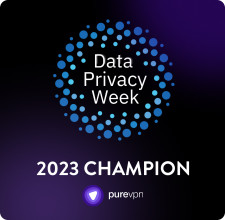 PureVPN - ensuring online safety and security of its users.
ROAD TOWN, Virgin Islands (British), January 25, 2023 (Newswire.com) - It's Data Privacy Week at PureVPN & they're excited to celebrate being awarded Data Privacy Champions for 2023 by the National Cybersecurity Alliance for striving to keep user-data safe and secure. The company has worked hard this past year making their app user-friendly while providing the highest levels of security for all which has qualified them to be given this honor. Here are some new features they've launched last, so their customers can stay safe online with peace of mind.
Support for OpenVPN protocols
256-Bit AES encryption
Accessible on all devices
High Speed/Minimal Latency
Split Tunneling
One of the most exciting developments from their team has been introducing support for OpenVPN Protocols. Now users can easily switch between TCP and UDP protocols with a few taps on the screen - ensuring their internet connection always runs quickly and securely. Additionally OpenVPN is open source which adds an extra layer of transparency, allowing anyone to audit its security protocols.
PureVPN offers many layers of encryption, including 256-Bit AES encryption software technology to keep customers' data safe from any harm while ensuring the connection between them and the server remains secure. The company also offers a split tunneling option, allowing users to route only traffic that needs extra security through the VPN, giving customers complete control over the information shared without impacting device performance.
PureVPN also continued to expand their range of applications across multiple platforms, giving users more choice in boosting their privacy. PureVPN's apps are now available on Windows, MacOS, Android and iOS - so no matter what device customers use to access the internet, PureVPN has them covered.
When it comes to speed and performance, PureVPN's better than before. With servers located in over 78+ countries globally, the company's network provides high speeds with minimal latency - perfect for streaming HD videos from overseas or playing online games with minimal lag. Plus, their high-grade encryption technology keeps user data private and secure from prying eyes at all times.
Lastly, PureVPN has split tunneling functionality, enabling users to choose specific applications or websites to bypass the VPN - allowing customers to access certain content faster without sacrificing security elsewhere on their device, while still enjoying complete benefits of a full VPN connection.
PureVPN is proud to celebrate Data Privacy Week by offering customers an easy-to-use application that keeps data secure and private at all times.
Data Privacy Week is more than just a celebration; it's something the company takes seriously every day by developing new features designed to enhance user security and privacy on all platforms.
With PureVPN's commitment to providing a secure online experience for everyone, users can rest assured knowing that whatever device they use, their data will stay safe, 365 days a year.
"Powering safety and consent, for you to be YOU online."
Source: PureVPN
Share: