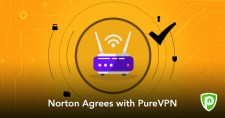 A recent online survey by Norton run in 15 global markets agrees with PureVPN's findings about how internet users are too careless when it comes to their Wi-Fi security.
MELBOURNE, Australia, June 28, 2018 (Newswire.com) - PureVPN – the only VPN provider with more than 6,000 reviews on Trustpilot and a stellar rating of 9.5 – regularly voiced its concerns about internet users not being careful enough on public Wi-Fi hotspots. The VPN provider had initiated private surveys and had gathered answers via the live chat feature on its website. The majority of responses received painted an extremely alarming picture: people will willingly connect to any public Wi-Fi hotspot without giving it a second thought as long as the signal was good and the connection was free.
While the VPN provider regularly writes about this issue on its blog to raise awareness and urge internet users to be more cautious, Norton's survey has confirmed the VPN provider's limited findings on a global scale. The survey found most consumers unaware of the dangers of public Wi-Fi hotspots and the risks to their personal information.
Key Findings of the Survey
The survey's findings can be summarized as:
· Most internet users find a strong, free Wi-Fi signal a blessing.
· Access to public Wi-Fi is a must even while travelling.
· Some people won't even bother to request the owner of the Wi-Fi for access. They will try to guess or crack the password.
· Almost 55 percent of users were willing to share their data just to get free access.
· 71 percent had no qualms about using a hotel's Wi-Fi while travelling.
· 43 percent agreed to connect to the Wi-Fi of cafés, bars, restaurants, etc.
· 43 percent will use the airline's Wi-Fi without thinking twice.
Major Misconceptions About Using Public Wi-Fi
The same survey also discovered some troubling misconception people have while using a public Wi-Fi hotspot, which includes but is not limited to:
· 60 percent felt that their data is safe.
· 53 percent weren't able to differentiate between a secure and unsecure public Wi-Fi.
· 75 percent don't even bother to use a VPN while using public Wi-Fi hotspots.
Interestingly enough, the same respondents of the survey also said that:
· 48 percent felt horrified about their financial information being hacked.
· 38 percent did not like the thought of their personal photos in the hands of an unauthorized person.
· 36 percent were worried about their kids' data being available to someone else.
· 21 percent feared their private chats or messages going public.
The survey paints a clear picture of how people just look for a free Wi-Fi when not at home or office, even at the cost of their own data, photos, financial details and family information. The survey also shows that we still have to go a long way when it comes to giving our data security and online privacy the importance it deserves.
Even though we have an evident solution in the form of a VPN for Wi-Fi security, we still put our data and privacy in harm's way, willingly, just to get free access to the internet. This carelessness not only causes financial loss but also damages the social reputation of the victim - after all, nobody wants their risqué images splattered across the internet. Besides, if we can't make hacking difficult for hackers, then let's not make it any easier for them.
Public Wi-Fi hotspots are fast-becoming baits to lure in unsuspecting users. The only way to break free from them is to practice caution and using a VPN every time we go online.
Source: PureVPN
Share: