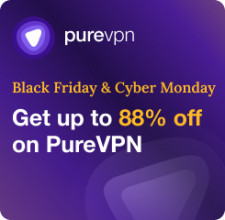 British Islands-based Virtual Private Network is offering incredible deals on 5 and 2-year plans along with a free password manager
ROAD TOWN, Virgin Islands (British), November 26, 2022 (Newswire.com) - Virtual Private Network PureVPN has announced its exclusive Black Friday and Cyber Monday deals, offering its 5-year plan at 88% off and 2-year plan plus extra 3 months for free at 82% off. Customers in the market for a reliable and efficient VPN can also grab discounts on newly-launched products as add-ons with PureVPN.
Deal 1
5-year plan:
$1.33/mo - Save 88%
Was: $10.95/mo
PureVPN is offering its biggest deal to date with its 5-year plan. At 88% off, the 5-year plan comes to only $1.33 per month, which would otherwise cost $10.95 per month.
Users looking for online privacy all year round in one tap should avail this offer.
Deal 2
2-year plan + 3 extra months free:
$1.95/mo - Save 82%
Was: $10.95/mo
With 82% off, the 2-year plan comes to $1.95 per month and would otherwise be $10.95 per month.
With the 2-year plan deal, users can also avail three extra months free of charge, saving $32.85.
The incredible offers are available for a limited time only.
All plans on PureVPN are accessible through any device and each account supports 10 multi-logins. All deals also come with a 31-day money-back guarantee.
Deals on new products:
PureVPN is also offering massive discounts on its newly-launched add-ons PureKeep, a next-generation password manager, and PurePrivacy, a social media privacy auditor, as part of its Black Friday and Cyber Monday event.
Users can get PureKeep at 76% off and PurePrivacy at 67% off.
PureKeep and PurePrivacy were launched in 2022 as PureVPN looks to expand into building a cybersecurity ecosystem beyond VPNs.
PureKeep is the most secure way to manage all your passwords as well as other sensitive information, such as credit card and passport information, from one place.
PureKeep allows users to:
Store all passwords in secret vaults
Generate hard-to-crack passwords
Sync passwords across all devices
PurePrivacy recommends the best social media privacy settings for users to help them make healthier digital choices.
PurePrivacy allows users to:
Stop ads from tracking them
Protect their online presence
Schedule privacy checkups
About PureVPN
PureVPN is an independent Virtual Private Network (VPN) provider for both consumers and businesses. PureVPN is committed to providing digital safety, while making sure its users have the safest and most seamless experience online. The VPN service continues serving its 3 million+ satisfied customers with 6,500+ servers in 78+ countries and a network bandwidth up to 20Gbps. PureVPN is part of Pure² - a collective of passionate cybersecurity minds working on creating security solutions beyond just VPNs, including PureKeep, a password manager, PurePrivacy, a social media privacy platform, and PureEncrypt, a file encryption tool.
Source: PureVPN
Share: