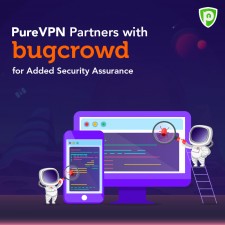 PureVPN, a VPN industry trendsetter, takes bold steps to elevate its security and anonymity services to new heights - pushes forward the entire industry standard.
DUBLIN, September 5, 2018 (Newswire.com) - Taking yet another innovative approach to user security and privacy, PureVPN -- a maverick of the security industry -- has partnered with Bugcrowd and invited its army of 90,000+ cybersecurity experts to test PureVPN to its limits. The program builds on PureVPN's cybersecurity commitment to deliver the world's most secure VPN experience.
PureVPN's decade-old mission to serve security with a never-ending line of innovations such as Ozone & Gravity (Beta) is in full swing. The Bug Bounty Program is a grand gesture by the VPN industry leader to reinforce and stand by its commitment to security and privacy.
The Bug Bounty Program
The security landscape is evolving at a mind-boggling rate. Today, no provider can guarantee 100% effectiveness of their offerings, unless they have a strong community of cybersecurity experts backing them, and the trust of knowing that the service is constantly being tested by the world's #1 community of ethical hackers.
Understanding the complexities of today's cybersecurity scenario, PureVPN has taken a bold step by getting its Windows, Mac, iOS, Android and Linux Apps along with its extensions for Chrome and Firefox browsers, and DD-WRT Applet put to the test by the world's finest. This groundbreaking step by the VPN industry leader shows seriousness, confidence and customer-centric nature of the provider, which effectively translates into utmost peace of mind for the end user.
Bug Bounty Rewards
While no price tag can ever justify the value of commitment, PureVPN is offering rewards up to $1,500 for vulnerability identification and help the VPN provider further develop active cyber-defense capabilities for some of its most popular client software for various platforms.
The rewards vary according to the vulnerabilities and loopholes discovered. Details of the program can be viewed at the Bugcrowd page.
A Little About Bugcrowd
Bugcrowd is a renowned name in the cybersecurity industry. It offers a crowd-powered platform that lets companies have their products or services torn apart and "pen-tested" by the crowd to identify bugs, vulnerabilities and other security threats. The crowd is composed of hundreds of thousands of individuals from across the globe, who are highly experienced and skilled in cybersecurity, penetration testing, vulnerability discovery, bug hunting and more.
The Scope of the Bugcrowd Program
With this program, PureVPN's target is to reassure its users that there are no vulnerabilities and loopholes encircling enumeration, information gathering and also vulnerabilities that lead to infrastructure compromise. All offerings by PureVPN, including its desktop and smartphone apps, router applet, and browser extensions will be tested for vulnerabilities and any other loopholes that can have a direct impact on its users and infrastructure.
By going under the pentesting program, PureVPN has communicated assurance to its users and has reinforced its promise to ensure ultimate security and intrusion-free privacy of its users. The program is aimed at making PureVPN's security & privacy services bulletproof. Given its reputation as the pioneer and top innovator in the VPN space, PureVPN continues to push the boundaries by elevating industry standards.
About PureVPN:
PureVPN is a leading VPN service loved by sports fans, streamers, and online privacy seekers across the world. The service was established with the aim of providing users with complete internet freedom.
Founded back in 2007, it boasts 2,000+ servers in 180 locations worldwide and has the honor of serving more than 3 million users. The Hong Kong-based VPN provider offers an extensive set of features, accessible through its dedicated apps, and enjoys a stellar reputation of being one of the most reliable VPNs in the market.
Source: PureVPN
Share: