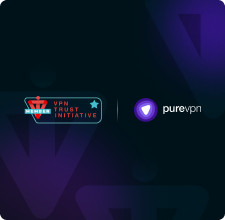 ROAD TOWN, Virgin Islands (British), October 4, 2023 (Newswire.com) - In today's ever-changing digital landscape, cyber threats, data breaches, and unauthorized surveillance have become increasingly prevalent. Unfortunately, many corporations disregard user security and privacy, creating a challenging environment for internet users to distinguish trustworthy services from unreliable ones. In these circumstances, PureVPN, a subsidiary of PureSquare, is pleased to announce PureVPN's accreditation under the newly launched VPN Trust Seal program, initiated by the Internet Infrastructure Coalition's VPN Trust Initiative. This action holds significant meaning as it showcases PureVPN's dedication to users worldwide.
The launch of the VPN Trust Seal accreditation program provides a clear public indicator that a participating VPN provider follows established best practices for delivering service in the following five areas:
Security: VPNs will use the necessary security measures, including strong encryption and authentication protocols, to appropriately address the risks.
Advertising practices: Given the complexity and different use cases for VPNs, claims must not mislead.
Privacy: VPNs should keep as little data as they deem necessary to provide the service and only produce data to law enforcement when legally required.
Disclosure and transparency: To foster trust, member companies must take steps toward informing users and the public about their actions and procedures.
Social responsibility: VPN providers will promote VPN technology to support access.
About i2Coalition's VPN Trust Initiative
The VPN Trust Initiative is an initiative by the i2Coalition aimed at raising the standards of the VPN industry. It brings together trusted VPN leaders, leveraging their combined knowledge to establish policies focused on "building understanding, strengthening trust, and mitigating risk for VPN users."
To learn more about the VTI, please visit vpntrust.net.
About the i2Coalition
The i2Coalition was established during a period when US legislators were considering bills (SOPA and PIPA) that could have had negative implications for the online world. Their main objective is to ensure that those who construct the infrastructure of the Internet have a say in shaping public policy.
They accomplish this by:
1. Ensuring an equal and accessible internet for all.
2. Assisting lawmakers and legislators in understanding how internet infrastructure functions.
3. Advocating for reasonable policies that contribute to the growth of the internet, rather than its decline.
4. Ensuring fair treatment of laws related to the internet.
What does PureVPN's involvement mean for VPN users?
PureVPN's inclusion in the i2Coalition's VPN Trust Initiative has significant implications for its users worldwide. This collective effort prioritizes users' interests in policy and industry advancements.
About PureSquare:
PureSquare is a holistic cybersecurity platform that prioritizes Youser safety and privacy, for a new age. It is dedicated to empowering people with digital security and online privacy. By leveraging 16 years of expertise in the industry, PureSquare continues to achieve excellence through its subsidiary brands - PureVPN, PureKeep, PurePrivacy, PureEncrypt, PureDome, and PureWL.
Source: PureVPN
Share: